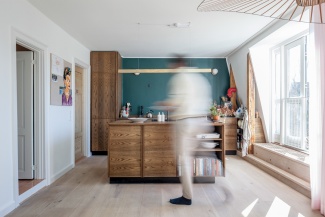 A bespoke design should not be complicated. That's why we at Guld & Løvenholdt make it simple. You can read about how to order a bespoke furniture piece in the five steps below, and of course, we'll help you with inspiration and advice all along the way.
1. Contact
Email us and let us know when you plan to build your new kitchen, furniture, bespoke piece or any other project and where you live. Also, write your telephone number if you want to be contacted by phone. We will soon be replying to you. In the next step you will have to answer some simple questions about your idea, what style you are looking for, floor plan and your thoughts, design details, etc.

2. Measuring
With your help of simply measuring your available space, we will start drawing and planning the design based on your wishes and needs.

3. Design and price estimate
You will now get a drawing of your new design solution together with suggestions for colour and materials. That will give you a more detailed overview of both the cost estimation and the creative solutions so that you can more easily make the right decisions. The cost includes materials and the time we invest in your concept, design and posterior construction. We are transparent, honest and fair in our prices. We do not overcharge since we have faith in the customer's trust.
 
4. Meeting
You are also welcome to swing by our design studio where we will have a final meeting before proceeding with the construction of your design.

5. Order and delivery
When you are satisfied with the design and have made all the choices it is time to order. Of course, we will help you with adjustments along the way. Our kitchens are normally delivered within 6-8 weeks after you have placed your order. For other bespoke designs please consult with us the estimated time of delivery.
Contact us and you will receive further information on how to build a bespoke kitchen or an interior design solution with us. When you have decided we will help you and answer all your questions throughout the process.

info@guldoglovenholdt.dk